What you say about our homecare
We work to provide care in your home that is centred around the needs of you and your family. Because, although sometimes it can feel that way, you're not in this alone.
This is what some of you have said about our homecare.
Ruth's story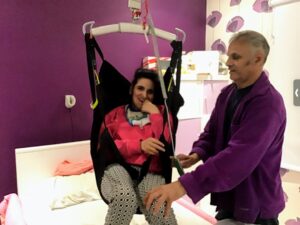 Ruth spoke to us about her family's experiences of Caring Together's homecare.
"I'm a parent carer to two severely disabled thirteen-year-old girls. I first used Caring Together's services years ago coming in for my dad. About five years ago we took up Caring Together's care for my girls to get regular care workers for both girls. I'm very happy with the service I receive at Caring Together."
"Caring Together has always made sure that if one care worker can't make it, they'll always be someone in for that slot.
"Everyone who comes is pleasant and I look forward to them coming. I get on well with the care workers. They know the girls very well whom they are caring for and know how to deal with their needs.
"You can tell, certainly our regular care workers, that they enjoy being with the girls and are well adapted to supporting them. Some of them have been with them for quite a few years, so are reliable, consistent and really lovely to have around. They are very skilled to help the girls and their individual needs."
Ruth explained what makes us different, "Your communication, from the care workers and care team services to me, is very efficient. You are very reliable which is always great, you are always there and on time. Your care workers are always punctual and you give us more regularity and consistency than other providers."
What you say about us
Thank you to those of you who have shared your experiences of our homecare:
"The care workers that care for me through Caring Together's homecare service are always very calm and collected.
"This makes for a much nicer environment and helps me feel more relaxed. They are always punctual, proactive and motivated to get things done.
"There has always been consistency with the same three staff members coming in, so I have got to build trust and rapport.
"They know what suits me. They are very patient."
"You've been really supportive and understanding about me and my home arrangements due to COVID. Your staff communicate really effectively and I feel empowered rather than patronised."
"Caring Together's consistency has been great. The support of giving me time to deal with me has been amazing. I wouldn't trade you guys for anything."
"They bring a great start to the morning. It is great to be receiving homecare with Caring Together as there is consistency with there being the same carers throughout the week. The carers are very good, nice, and timely."
"The care we receive from Caring Together for my partner is great, they do everything that needs to be done.
"I have been with Caring Together for many years and without Caring Together, getting out in the morning would be very difficult. It has given me back my independence by the kind carers helping me to get out of bed in the mornings. Thank you for your great service."
"The care and support we receive through Caring Together has been fantastic. Your care calls are having such a positive impact on our wellbeing."
"Your care workers support us with not only physical care needs but needs to support our wellbeing such as supporting us with activities such as cooking, reading and exercises."
"We look forward to seeing our regular care workers every week."