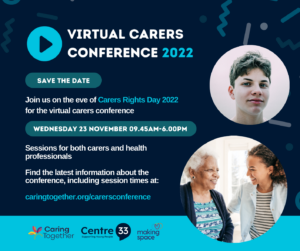 This was held on the eve of Carers Rights Day 2022 as a virtual carers conference. With sessions for both carers and health professionals. All of the sessions were be in line with the aim of Carers Rights Day:
Ensuring carers and professionals are aware of the rights carers and young carers have.
Letting carers and professionals know what help and support is available across the county.
Raising awareness of the needs of carers of all ages (including young carers and parent carers).
Agenda
9.30am-9.45am – Zoom room opens
9.45am-10.00am – Welcome and Introduction
10.00am-11.00am – Carers' experiences with health and social care professionals
11.30am-12.30pm – Impact of caring on the physical and mental health of carers
1.00pm-2.30pm – Support available for carers and Carers' Rights
2.30pm-3.00pm – Carers' strategy update
4.00pm-5.00pm – Introduction to young carers
5.00pm-6.00pm – Interviews with young carers
Resources relevant to the conference