About Ruby
14-year-old Ruby is a carer for her 16-year-old brother who has autism, this affects his understanding and how he communicates and interacts with the world.
When Ruby is not caring for her brother, she enjoys meeting up with friends, going into Norwich and cycling. However, her real passion is listening and singing to music. She plays the piano and has done well in musical theatre at school.
When she finishes school, her ambition is to work in law and order and she aspires to become a lawyer or forensic scientist.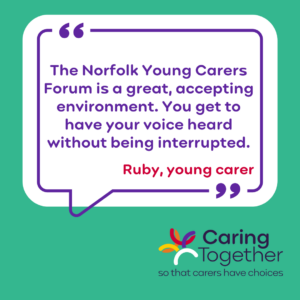 Ruby is a member of the Norfolk Young Carers Forum. The Forum gives young carers and young adult carers the opportunity to raise awareness and make a difference about the issues that affect them and their families. Forum members get involved in planning and delivering campaigns, taking part in conferences and training for adults and raising awareness of young carer through media opportunities.
She enjoys being part of a team of young carers that are working together to gain more recognition and a stronger voice. She says, "It's a great, accepting environment. You get to have your voice heard without being interrupted and the organisations that work with young people in different ways, listen.
"They go on what we want and not what they think you want."
Challenges of being a young carer
Living with a brother with autism can be a challenge for Ruby, but she has learnt to deal with the times when he is agitated or on the edge of a 'blow up.' As she says, 'it's all I've ever known and it's all I will ever know. It's my normal and how I have had to grow up."
She says, "My brother can get angry and agitated and we always have to monitor how he is and if he's up to here, we have to tip-toe around him because we don't want him to blow."
"It's hard sometimes because I feel like I have to walk around on eggshells because I don't want to be on the receiving end if he blows up, I don't want to be shouted at or felt like I am smaller than him. Sometimes he takes on a fatherly role over me which isn't necessary."
Apart from this, Ruby says she does get on well with her brother and adds, "Of course we are going to argue and of course we won't always see eye to eye because we're siblings! We may not both be neurotypical but that shouldn't make our relationship more or less special. We have both grown up together knowing each other how we are, instead of how we could have been."
Ruby says being a young carer and having to understand her brother's autism has made her more 'grown-up' and responsible in some ways than others.
Ruby describes herself as the 'mother' of her friendship group and tends to look out for everyone. She adds, "I'm like, 'you sure you want to do that?' The other days my friend cut herself and I was there helping her out, cleaning the wound. I can't help myself."
Friendship is important to Ruby, who has 'amazing' friends that know and understand she is a young carer.
She says, "My friends understanding my situation makes it a whole lot easier for me. If I have an argument with my brother, it might upset me more than my friends having an argument with their brother."
Another challenge Ruby has faced is not receiving the support she needed at primary school because they did not recognise her as a young carer.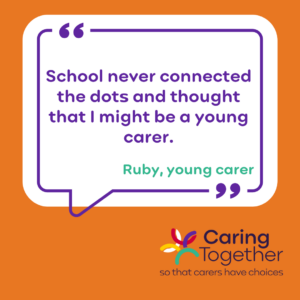 She says, "All throughout primary school I was two years below my brother. The school knew my brother struggled but they never recognised me as a young carer.
"They never connected the dots and thought that I might need support as a young carer.
"My brother and I go to different schools now, but I still don't receive any support at my school."
The positives of being a young carer
Being a young carer has made Ruby an independent 14-year-old that is happy to do her own thing or entertain herself when her mum is busy with her brother.
She has also been offered more experiences and opportunities because of her caring role, for example breaks and joining young carers groups, such as the Norfolk Young Carers Forum. This has boosted her confidence and helped her deal
with her brother's autism.
She says, "Having those opportunities is nice, because it feels like I am getting rewarded for my caring role and having time away from my brother is good because sometimes things can get a bit too much in the house."
Ruby's top three tips to ensure young carers are identified and supported
Don't be afraid to ask. the more you know the better. If you think or know someone is a young carer, ask them about it.
Get to know about young carers and their different caring roles. The more you know, the easier it will be for you to recognise and support young carers.
In turn, if more people know about young carers and then more funds could be raised for breaks, which I know has been important for me.
Five minutes with the Prime Minister Boris Johnson
When asked if she had five minutes with the Prime Minister, what would she ask him. Ruby says, "I would ask him to spread awareness of young carers because there are so many unidentified young carers out there, it's simply crazy.
"I would like him to recognise how much young carers do for the economy. They save the Government so much money, instead of being paid they do it for free. They might not do it voluntarily, but they do it."