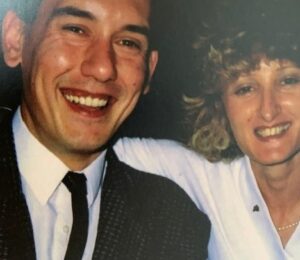 Rosalyn is a full-time carer for her 63-year-old husband Barry who is living with early onset dementia.
In the early days, Barry was a professional speedway driver who rode for the Peterborough Panthers and that is where the couple first met. They are celebrating their 40th wedding anniversary this year.
Rosalyn's caring role
Rosalyn describes her loved one Barry as "very clever man" who decided to go for memory test after he noticed that he was making mistakes in his work as a debt advisor. She had no idea that Barry was losing his memory and finding normal day to day tasks difficult until he decided it was time he took a memory loss test. She says, "I didn't think Barry had a memory problem and was shocked when we went along to the memory test, and he was unable to draw a clock and the numbers. He put all the numbers on to one side."
The challenges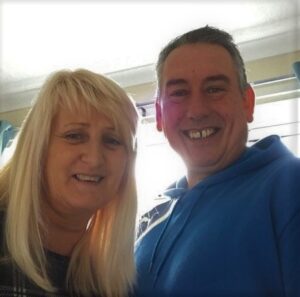 Routine is especially important for Barry. They start the morning with him taking his medication and then they spend 20 minutes together reading a psalm from the Bible. She says, "Our faith sustains us. We talk to God, and he gives us the strength to get through the tough times.
When Barry was first diagnosed with early onset dementia, Rosalyn felt she wanted to do everything right for him. She says, "I didn't know what to say and what not to say to him in case I upset him. But I have since learnt that the most important thing is to talk to him with respect."
Rosalyn says, "It gives us hope that we have got each for a bit longer and having faith in God reduces stress and helps us to maintain a balance."
Rosalyn has found that she has lost a few friends since Barry's diagnosis but has gained support from friends through The Bridges Church which she attends on a regular basis.
Another challenge Rosalyn faces is that she does not have much time for herself anymore and she has had to adapt her own routines to care for Barry. For example, the couple no longer go shopping together, instead she takes shorter trips to the supermarket on her own.
Despite Barry's illness, Rosalyn says the couple live a full life and cherish their time together. She says, "We have created a memory box. If we see something on the street when we are on a day out, we put it in the box and then chat about it when we get home.
"At Christmas we rented a cottage in Bexhill on Sea. It was a lovely Christmas break, we really enjoyed it, just the two of us. We had plenty to add to our memory box then."
Support from Caring Together
Caring Together has supported Rosalyn with a bursary towards a new shed in her garden, after she turned her old sheds into a shower room for Barry. She says, "I missed my garden shed and was grateful for the bursary from Caring Together."
Rosalyn and Barry have also been along to carers days out, such as the Sandringham Christmas Fair. She regularly attends our Huntingdon carers hub, where she finds it is "nice to chat to other ladies" and the information sessions are "really helpful".
She says, "In the early days, I was embarrassed and did not want to talk about it. I feel very comfortable at the carers hub, and it's made me more aware that I am not the only person caring for a loved one. It has really helped."