We can provide support to your school in supporting young carers and young adult carers.  Contact us on 01480 499090
Carer Friendly Tick awards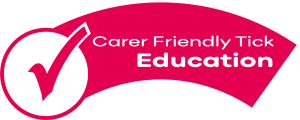 Our Carer Friendly Tick awards recognises organisations who work to identify and support carers.
There is a category specific to education – whether you are a school, college or university we can work with you to help you achieve the award. Click here to view more about the Carer Friendly Tick awards.
Other resources and support for you
Information on specific projects can be found below.