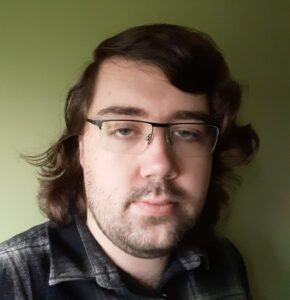 This year's Young Carers Action Day has the theme of protecting young carers' futures. We have been speaking to young carers and young adult carers to find out more about how their caring roles affect their lives, and what they believe the future should hold for them and other carers. See caringtogether.org/YCAD to find out more about Young Carers Action Day.
Tom, 24, is a young adult carer who cares for his mum who has a hearing impairment and partial sight loss.
He explained to us the impact being a carer has had on his search for work, "I have been looking for employment local to home as I am uncomfortable being to far away from mum.
"During coronavirus I have stopped looking for employment as mum is also asthmatic and has had to shield through the lockdowns. For anyone caring for someone shielding, that has an effect on what you can or can't do as well."
He told us how the COVID-19 pandemic meaning his mum has to shield has meant she has become isolated from the groups that she would normally be going to.
And Tom told us about the challenges of finding a job as a young adult carer, "I did receive support in finding a job, which turned out to be unsuitable as I was asked to work further away than they had stated during the interview process. But because I was able to find a job they ended their service to me, and they only offer their service out once to each person."
He believes there needs to be a more flexible approach that takes more account of each carers needs, "Ideally the needs of young and young adult carers should be addressed on a case-by-case basis to give support that is specifically needed, instead of a blanket measure that will only affect some of the carers and be of little to no use to other carers."
Tom said the support he had was beneficial and worked well, but that the fact he could only access it as a one-off now leaves him with less support. "I had someone come in to see me to help me with searching and applying for work.
"They assessed the areas I was confident in and helped me identify and improve in area where I was not so strong. The support was practical and one-to-one. They also supported around the search for work in terms of working with me to look at what jobs were available.
"Being able to have this support on a more on-going basis, or at least being able to have it more than once would be really helpful."
Tom told us more of how COVID-19 has meant that the support he had got lined up before the pandemic struck has been disrupted, with the knock-on effects on him and his search for work, "Because I am not in work I don't have the income coming in so we are reliant on benefits. I had some help for driving lessons but I got booked in just as COVID started. I got a grant to help pay for lessons.
"But due to some of the challenges and restrictions around COVID even when restrictions were eased for a while it still wasn't possible for me to start the lessons in that time either."
And this comes on top of the fact that a job market can already be challenging for carers.
"As a carer it is hard to find a job that fits with your caring responsibilities. The responsibility is like being the parent of young child in that you need to back by certain times to do certain things – whether it be for medication, to cook for them or in general to do other jobs to look after the person who is at home.
"On the odd chance that you do find somewhere that has flexible hours they seem to only expect people who have children to need access to it. You're only entitled to be considered for flexible working – you do not necessarily get the flexibility you need.
"It would make a big difference if more employers understood the demands and importance of people having a caring role."
Tom is looking to the future and hoping that the situation improving will mean he can take the next steps that can then lead to him having work and a more financially independent future, "As lockdown eases I hope to be able to take my driving lessons. And looking to the future it is important to me to find a job and to look at being able to move out and setting up my own home."