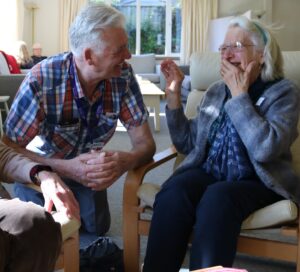 A huge well done to our volunteer Richard Cross who has been nominated for BBC Radio Cambridgeshire's 'Make a Difference Awards 2022'.
The awards are a chance to say 'Thank You' and to show recognition and appreciation for people who love to make life better for others.
Jane, our volunteer coordinator was more than happy to nominate Richard for the award due to the empathy and kindness he shows to carers of all ages.
She said: "Richard is just supersonic! He was a carer for his wife until she sadly passed away six years ago. Since then, he has been supporting carers across Cambridgeshire. We are very grateful for his time, knowledge and experience.
"Fingers crossed he will win the award and if he doesn't that's ok because we all know he is a superhero who makes a difference to carers lives."
Richard's volunteering roles include regularly supporting two family carers in Cambridgeshire by offering companionship to their loved ones. He goes to their home and sits and chats with them, or they go out for walk or simply listen to music. This enables the carer to have a break for a couple of hours. The carer is able to go for coffee with friends, pick up some shopping, have their hair done or have time out in other ways.
Richard also helps with our young carer's activities during the school holidays and supports us with our adult carer hubs every other week.
He 'meets and greets' carers attending the hubs and spends time chatting to them and signposting to other services that can support them in their caring role.
Richard said he was surprised to find out he was nominated for the Make a Difference award for volunteering and added, "I just love volunteering. I love being out there helping out and doing stuff. I like to keep busy, and it gives me a real sense of wellbeing knowing that I can help carers. They deserve all the help they need.
"I think that I have the best role ever volunteering for Caring Together. Together we can help make a positive difference to the lives of carers of all ages. So why would I ever want to retire?"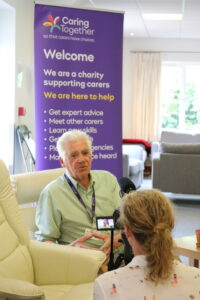 The BBC Radio Cambridgeshire 'Make a Difference' award ceremony takes place in Peterborough Cathedral on Friday 30 September.