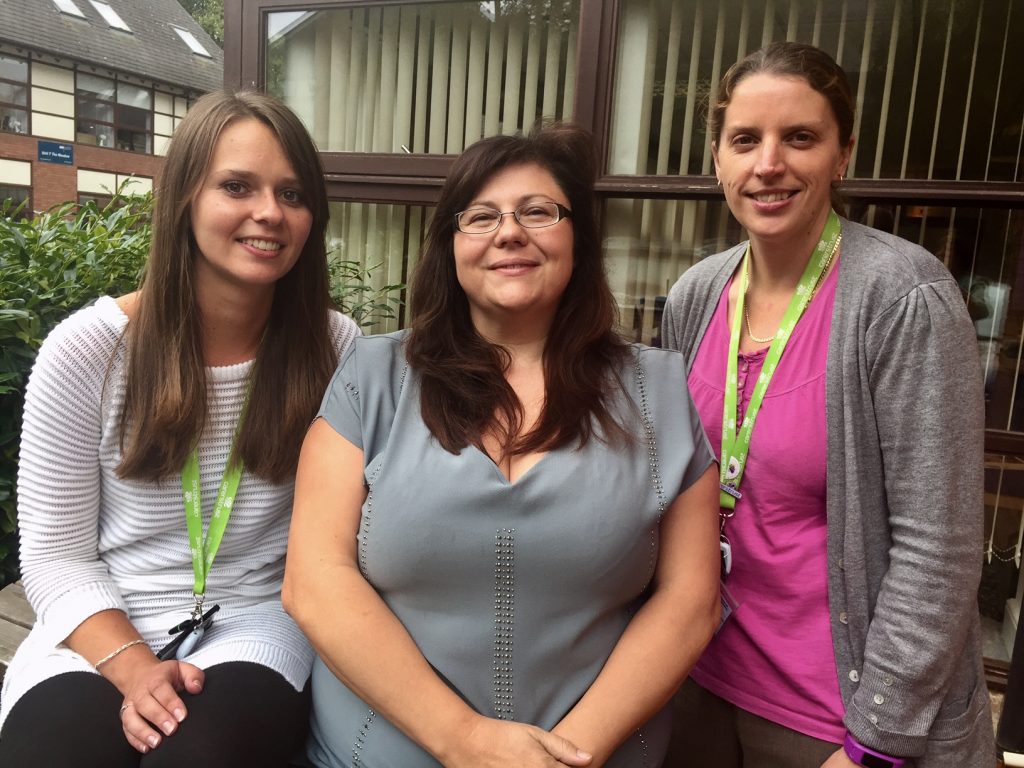 Three staff at Carers Trust Cambridgeshire have been shortlisted for the East of England Great British Care Awards which celebrates excellence across the care sector. The results will be announced at a gala dinner at the Guildhall, Cambridge on Tuesday, 29 November.
The awards pay tribute to individuals who have demonstrated outstanding excellence within their field of work, representing all areas of the social care sector.
Rebecca Browne and Ruth Young, both Carer Support Officers, were nominated for the Putting People First/Personalisation Award in recognition of their work with a woman who became exhausted and struggled as the main caregiver for her husband, an amputee, as she was also looking after their two young children.
Rebecca and Ruth were nominated by Carers Support Team Manager Laura Green who described their work as an exemplary example of the support we give family carers who are close to breaking point.
Laura said: "Rebecca recognised the strain the family was under and organised for them to receive a Family Carers Prescription where the carer is supported to take a break before they reach crisis point. The family used this break to take a trip to Peppa Pig World. Ruth undertook the wife's Carer's Assessment and arranged to have her personal budget spent on a cleaner, allowing her to spend more time with her husband and children.
"The family were in touch again this year as the husband was due to have his other leg amputated. His benefits had been stopped which was causing extra worry for his wife. Rebecca referred her to Village Benefits who supported her through a court case which they won, meaning that his benefits have been reinstated. The referral also meant that his wife also started claiming Carer's Allowance.
"When Ruth completed her Carer's Assessment review, the woman said that whilst she had had a terrible year, she felt more able to cope with the support which had been put in place by Rebecca and Ruth. She said she felt stronger knowing there was someone there if she needed them."
Sadie Andrews, our Registered Manager for supporting people in their own home, has been shortlisted for the Home Care Registered Manager Award. She manages our professional, fully trained care workers in Cambridgeshire, Peterborough and Norfolk to support adults and older people with disability, including those who have dementia and are frail or have cancer or need palliative care.
Sadie was nominated by Operations Manager Lorna Harlow who said: "Sadie is extremely knowledgeable about her clients. She does an amazing job leading her team and they respect her enormously. Sadie leads by example and has introduced many processes and led the team through changes initiated by the Care Act.
"Sadie has made a big impact in training delivery within the company and is keen to support staff and clients to ensure support of the highest quality, whilst being mindful of the needs of the individuals we support and what we can do to enhance their lives.
"Sadie is always striving for excellence and recent feedback from a family she supported said that Sadie and her team went the extra mile and enable the person we care for to remain independent in his own home and kept the family informed and included in the care."
Dr Helen Brown, CEO of Carers Trust Cambridgeshire, said: "We have a fantastic staff team.  I am proud that Rebecca, Ruth and Sadie are being acknowledged for their dedication and expertise. We seek to develop the individual potential of each staff member so that they excel in a role they love. In our last staff survey, every staff member said they were proud to work here."
Carers Trust Cambridgeshire supports adult carers by providing Carer's Assessments, Family Carers Prescriptions, the What If Plan? for emergency care planning, information, advice and guidance respite care, groups and peer support. It supports young carers aged from 5-25, arranging trips and activities to give them a break from caring and helping them through education and into employment. We also provide care in the home and community.
For more information about our work or joining our team, see our current vacancies, email [email protected] or telephone 01480 499090.
* For information about The Great British Care Awards see https://www.care-awards.co.uk/