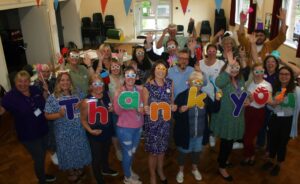 We would like to say a huge thank you to everyone who bought and sold tickets in our summer raffle for 2022.
Every ticket sold means more carers can be given the support that is so vital to them.
The results of the prize draw reflect how everyone can play a role in helping carers have support – the three prizes have been won by a carer for a family member, someone who volunteers with us and a person who works at one of our suppliers.
The prize winners were:
First prize of £250 – Paul, Norfolk
Second prize of £150 – Clare, St Ives
Third prize of £50 – Andrew, Cambridge
Our head of fundraising, Zoe Bunter, said, "It is essential that everyone looking after a family member or friend gets the support that they need.
"Everyone who bought a ticket in our summer raffle has helped support carers. Our helpline, support for young carers, breaks for carers, carers' support groups, and counselling support are all essential services needed by carers. And if you bought a ticket you have helped us to be able to provide these."
On behalf of all the unpaid carers and their families we support we want to say a huge thank you. Please click on the videos below where members of our team give their personal messages.
And if you would like to find out about the different ways you can get involved and support unpaid carers living locally, please go to caringtogether.org/give-your-support