Norfolk Wednesday Club for Dementia receives £2,000 cash boost
The Wednesday Club in Scratby, near Great Yarmouth which supports those affected with dementia, has received a cash boost of almost £2,000 – thanks to London Marathon runner Stephen Ellis whose father David is a member of the Club.
The popular Club is run by Carers Trust Norfolk and staff joined Stephen's family to support him in London on the day. David Ellis, 66, was diagnosed three years ago with fronto-temporal dementia, a rare strain of dementia that affects younger people.
Michelle Kirk, Family Care Manager with Carers Trust Norfolk, said Stephen raised more than £1,950 from sponsorship, almost doubling his target of £1,000, and donations are still coming in.
She said: "I would very much like to thank Stephen for his fantastic support in raising this staggering sum of money which will be used for special opportunities that arise. It was great to be there supporting him on the day with Claire Allan, the Club Co-ordinator."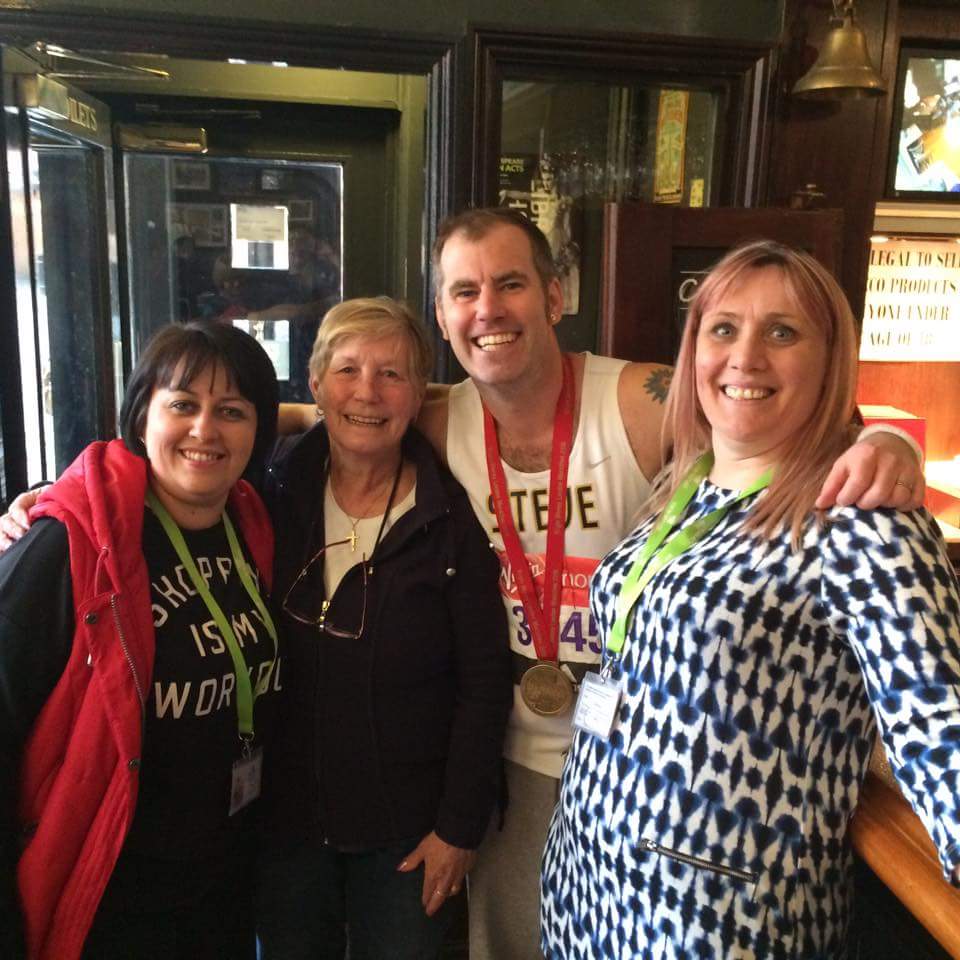 David retired from Enfield, north London to Scratby with his wife Chris when the first symptoms developed. The area holds many special memories as he spent many childhood holidays in Norfolk and continued to take his own family there after he married. Chris is a volunteer at the Club.
The Wednesday Club is a social gathering for anyone wishing to share experiences and support those living with dementia and their family carers.  A two-course hot meal is provided and outings are held throughout the year. David joined the Club in 2014.
Stephen, 41, who lives in Hove, Sussex, said: "Dad isn't able to communicate any more, but it is clear that when he is at the Club that he does have a good time. Mum says it's because he is looked after there, that there is a friendly atmosphere and the volunteers are kind, patient and attentive.  It's also a safe environment, and it's somewhere they can go together, which is an added benefit."
The group started in 2006 and has two long standing members of nearly ten years who lost their loved one to dementia during that time, but still attend the group because of the support they are given by everyone at The Wednesday Club.
Carers Trust Norfolk also supports family carers of all ages in a variety of other ways, such as practical and emotional support breaks for carers and care in their own home for people with needs, such as those living with dementia.
Anyone interested in joining the Club can call Michelle on 01493 441222.