Lynn Grove Academy in Gorleston-on-Sea have had their work to identify and support young carers recognised by being awarded the Carer Friendly Tick – Education award.
The team have worked to evidence and develop what they have in place to support young carers which has led to their award being presented this September.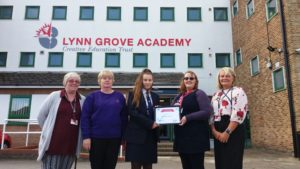 The Carer Friendly Tick Awards have been developed by Caring Together's Norfolk Young Carers Forum (NYCF), which is funded by the National Lottery Community Fund. The initial success of the awards meant the awards have been extended across Norfolk, Peterborough and Cambridgeshire to now include education, community, health and employer awards. These recognise the valuable work done in identifying and supporting carers carried out by each type of organisations.
The school has worked closely with Great Yarmouth and Gorleston Young Carers to support young carers, and the school have created cards that can be used by students to make school staff aware of their caring role. They have created a young carers agreement with the young carers at their school and Kate Vince delivers young carers awareness training each year to staff as a refresher. The school also holds regular assemblies to raise awareness.
The school commented, "We are proud to have been awarded the Carer Friendly Tick Award in recognition of the work our school does to support our pupils who also have a caring role.
"At Lynn Grove Academy we believe that it is vitally important to support the young carers in our community. We do everything we can to make sure that they have the help they need to deal with the competing pressures they sometimes face and also to celebrate the contribution they are making."
Andy McGowan, Business Development and Communities Manager at Caring Together, said, "With three in five of us likely to be a carer at some stage in our lives we are seeing more and more organisations in our communities recognising the importance of identifying and supporting carers of all ages.
"The Carer Friendly Tick – Education is a set of quality standards that was designed by young carers in Norfolk to encourage schools, colleges and universities to identify and support students that are carers. As a result of its success, it is now being rolled out to employers, health organisations and community groups.
Andy added, "We hope that other schools, colleges, universities and also health settings, businesses and community groups will follow the lead that Lynn Grove Academy and others have made to identify and support carers. As the number and awareness of carers grows this will be an ever more important part of making suitable provision for carers across Norfolk."
For more information about Caring Together, including the Carer Friendly Tick Award please visit www.caringtogether.org or e-mail [email protected].