At Caring Together we support people looking after family members or friends in a wide range of ways, from providing a home care service to being there to support them at a difficult time.
Fulltime carer, Janice talks about how our support with taking her husband to a hospital appointment has made a huge difference to her life.
Janice looks after her husband, Ted, who has a physical disability. She contacted Caring Together because she had an important hospital appointment for herself that clashed with a hospital appointment for Ted.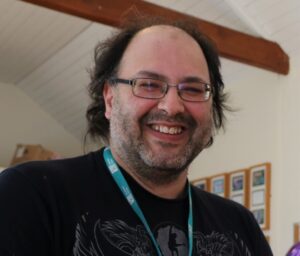 She called us to find out if someone could escort Ted to his appointment. Pedro (pictured right), a rapid responder/care worker escorted him to the hospital, attended the appointment with and wrote down notes which he could relay back to Janice.
"I had already booked a hospital ambulance or car, but that was very reluctantly. I made further enquiries to find out if there was a charity that would be able to help us, and this is where Caring Together came into our lives.
"They made such a difference from the first telephone call I had with them I felt so much better after just being told, I am sure we can help you. So positive, so reassuring.
"I was asked a lot of questions and the circumstances, and this was all taken note. I was told yes, they can help us and my husband would be able to have an escort with him to the appointment, meaning that I could relax and go to my own appointment and not have to worry about my husband's situation.
"The person who escorted my husband to hospital got a hospital wheelchair for him and took him to the appointment. He also went into the consultation with him. Pedro who was the person taking my husband was absolutely wonderful the whole of the time he was with my husband. He bought him home and came in and relayed to me what had happened and what the consultant had said, what the prognosis was and what the treatment was.
"It has made such a difference to our lives, the fact that this was able to happen with the help of Caring Together."
Help us support more carers like Janice
You can help us support more carers like Janice. As a charity we rely on donations and fundraising to enable us to support unpaid carers across Cambridgeshire and Peterborough. You can show your support by becoming a Carer Friend.
*To protect the identity of the carer involved her name has been changed to Janice.