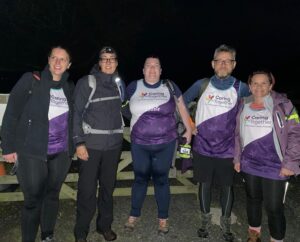 Five members of the Caring Together team have walked 21 miles across the peaks of Yorkshire to raise money for carers.
Our staff know first-hand from their work and also often from their own personal experiences of caring for family or friends, how crucial it is that carers are able to access the support they desperately need and deserve. And that is why five of them took on this challenge.
Maxine Thompson, John Platten, Melanie Gray, Lizzie Hindler and Ruth Young set out to cover 24 miles and more than 5000 feet of ascent up Pen-y-Ghent, Whernside and Ingleborough in a day; with what turned out to be vital support from colleagues, Tina Cornah and Teresa Weiler.
Events outside of the team's control meant they were unable to complete all three peaks. Despite overcoming a number of additional challenges and problems en route, they reached the top of both Ingleborough and Pen-y-Ghent and covered a total of 21 miles before having to stop.
Head of fundraising Nicky Newton said, "We are incredibly proud of every one of the group, and all that they have done.
"The situations the team faced on the day added to what was already a tough challenge. The way they and their support team carried on and did all they did really highlights their determination to take on this challenge and raise funds for carers."
Maxine said, "We were all so determined to succeed and to raise money for the carers we support. We had a great weekend and couldn't have done it without the support and encouragement of Tina and Teresa."
Ruth who also successfully battled her fear of heights as she took on the walking said, "I couldn't have asked for a better group of people to walk with and couldn't have got through it without them, not forgetting our support crew who were amazing and looked after us throughout the weekend.
"We all did it as we are so passionate about the support we provide for carers, and it was lovely being able to talk to other organisations about the work we do as we walked."
Melanie said, "Despite the factors working against us, two of the three peaks were achieved. This is an incredible feat.
"I am so proud of everyone that took part and went above and beyond to raise much needed funds for those looking after loved ones.
"Our experience was nothing compared to the frustrations carers face every day.
"Thank you to everyone who has been donating and showing your support – it means such a lot to us and makes it all worthwhile."
If you would like to learn more about the team's motivations and show your support please visit the fundraising pages for: