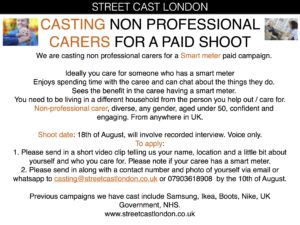 Street Cast London are casting non-professional carers for a paid Smart meter advertising campaign.
It will involve a recorded interview. Their voice will be used over an animation.
Their criteria are:
Non-professional carer, diverse, any gender, aged under 50, confident and engaging. From anywhere in UK.
Ideally you care for someone who has a smart meter, but not essential.
Enjoys spending time with the caree and can chat about the things they do.
Sees the benefit in the caree having a smart meter.
They need to be living in a different household from the person they help out / care for.
Shoot date:
Wednesday 18 August, it will involve a recorded interview at your location. Voice only. All COVID safety guidelines and PPE will be followed.
Fee if chosen to film:
Shoot day fee of £350
Usage fee of £1500 covers 1 year, UK only, all digital and social media.
To apply:
Please send in a short video clip telling us your name, location and a little bit about yourself and who you care for. Please note if your caree has a smart meter.
Please send in along with a contact number and photo of yourself via email or whatsapp to [email protected] or 07903618908 by the 8th of August.
Seem more details of the production company: https://gravityroad.com/ to see previous work.