Caring Together is delighted to have won the Health & Social Care Employer of the Year Award at the Cambridge Regional College Apprenticeship Awards.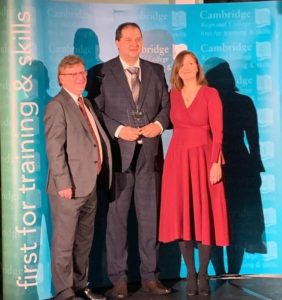 The award was announced at a ceremony at Park Restaurant last night and was given in recognition of the training and development opportunities that we provide for our care workers.
Anna Bainbridge, head of people at Caring Together said, "We are very happy to have won this award. We take pride in our commitment to helping our care workers develop their skills and are delighted that it has been recognised in this way.
"We know how important the care we provide to families is to them – whether we are providing it in the home or community. It is such an important service both to the people we provide the care for and to their carers who are able to have breaks because of the care we give.
"We know our care workers share that understanding of the importance and value of their work, and want to be offering the best possible home care for the families they work with."
Find out more about working for us at https://www.caringtogether.org/jobs
More about the Caring Together apprenticeship at Cambridge Regional College
Joanna Sawka
I have been employed as a care worker here for four years. When I heard about the apprenticeship scheme I knew it was a good opportunity to progress.
Learning was hard at first but once you get used to it becomes part of your daily routine. I would definitely recommend apprenticeship learning to others.
I'm really happy to be studying for a qualification in the career I have chosen which is making a difference for people.
Clients, especially the older generation like to know we are qualified, so having this helps build trust.
Michal Morkowski
I've been a care worker here for seven years. I trained in Poland with a degree in physiotherapy but the process is different in this country, so I came to the care profession. I did the equivalent of A Levels in Maths and English in Poland but it is a very different thing learning when English is not your first language. One of my clients is a Polish gentleman who can speak fluent English but due to dementia he has gone back to talking only Polish so my fluency in both languages is really useful. Another client has a boy with Downs Syndrome who was better understanding Polish.
Caring changes lives and can make life better for people which is really important. Having a qualification to prove we are skilled to practice in this area is really good. I have particularly enjoyed learning about the legislation. Taking on study seems a bit difficult in a busy schedule at first but once you start you soon learn how to fit study into your day.
Anna Bainbridge of Caring Together
The apprenticeship programme brings training alive. It puts an official framework around what our care workers do in their work every day. Caring is a very rewarding career and this way of training students is perfect to give them a sense of direction.
Where English is the second language the apprenticeship scheme gives meaningful, relevant qualifications to help people progress in their careers.
The apprenticeship scheme means we can support them to achieve and develop their career with a structured progression route.
Working with Cambridge Regional College works very well for us with a collaborative approach. The learners have regular one to one sessions and we know exactly where they are in their studies so that we can guide them too.