Being a care worker can be a very rewarding career – even if it is one you might not have thought of before. Seeing us at a jobs fair in a shopping centre led to Michal now doing a job he loves and him making a big difference to the lives of those he supports.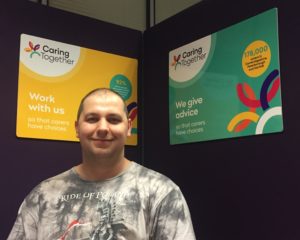 We had a chat with him  to find out more.
How long have you worked for Caring Together?
I have worked with Caring Together for almost seven years now.
How did you get into care work?
I have a bachelors degree in physiotherapy from Poland but at the time was working in a factory, so I was looking at how I could start to work with people again.
There was a Jobs Fair in Queensgate Shopping Centre in Peterborough, I went over and had a chat with someone from the charity and took a form away. I sent that in and got the interview.
What do you enjoy or find rewarding about your job?
I like working with people who have complex situations. If I can help them that gives me great satisfaction.
I like going out and about with clients especially the children so they take part in things they wouldn't otherwise do. We have also done trips out for clients and I have enjoyed those as children could meet each other and talk to each other which is really good for them to be able to do.
What is the best thing about your job?
The impact that it has on people's lives and the variety – you don't have the same day twice, it's always different.
Describe a bit of what your job involves?
Personally there is a big variety, because I do personal care, medication, social calls, trips out, family carers prescription and What If activations where we do care if a carer is suddenly unable to carry out their caring role.
I work with children through to the elderly – through the ages.
What area do you cover?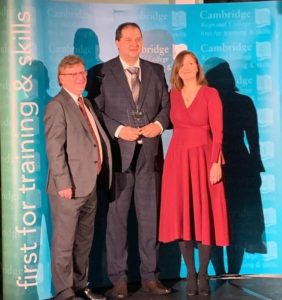 My main area is Peterborough but I go everywhere if it is needed. I have clients in other areas too.
What training have you had from Caring Together?
I have the all mandatory training and an extended epilepsy course including giving the emergency training. Peg training in the use of feeding pumps, and training in oral suction and in ear drops, eye drops, nose drops and nebulisers.
I am now doing an apprenticeship* leading to an adult health and social care diploma level 2 and after that I would like to move level 3 in children and 4 and beyond.
Are there other roles you take on within Caring Together?
I am looking to progress to doing care assessments and also taking on a role in mentoring staff in our new systems. Previously I have mentored other staff and say to other people they can always call me and ask if they want my advice. It is always good to know you can talk to colleagues as we all have different experiences.
Click here to find out more about care worker jobs with Caring Together
*click here to find out more about Caring Together's Cambridge Regional College award winning apprenticeship scheme