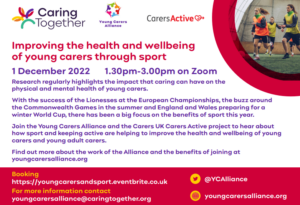 Join the
Young Carers Alliance
and the Carers UK Carers Active project to hear about how sport and keeping active are helping to improve the health and wellbeing of young carers and young adult carers.
This forum will give you the opportunity to:
Learn about the impacts that caring has on the physical and mental health of young carers and the benefits that keeping active can have on carers.
Hear about examples where young carer organisations have linked up with local sports clubs and organisations to provide a wide range of opportunities and support.
Learn more about the Carers Active project and how you can get involved.
Network and identify opportunities for collaboration and sharing best practice.
For further information email, [email protected]
Click here to book your place for 'Young carers research, policy and practice forum – Improving the health and wellbeing of young carers through sport.'
Download the 'Young carers research, policy and practice forum – Improving the health and wellbeing of young carers through sport'  flyer [PDF, 232Kb