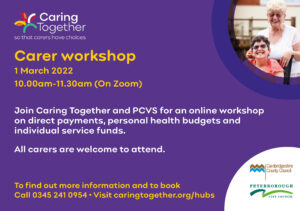 Are you caring for a teenager or young adult with complex needs?
Join us at our online parent carer workshop on direct payments, personal health budgets and individual service funds.
Please call 0345 241 0954 or email [email protected], for details on how to join the sessions.
For more information on carers hubs click here.
Carers hubs are supported by the National Lottery Community Fund and supported by Carers Trust with funding from the Government's Community Match Challenge charity package #CommunitiesCan