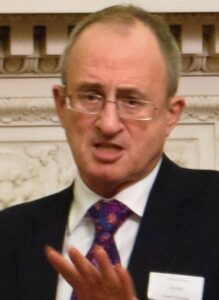 Steve Acklam shares his experience of being a carer and how you can join the carer council to make a difference. If you are interested, or would like to find out more, don't hesitate to contact Steve, chair of the carer council, at [email protected]
I can't speak for the many, many other carers looking after those they love. But for me, even though I had been helping my wife following her becoming disabled in 1985, and suffering emergency brain surgery in 1989, it is only in the past five years as her dementia worsened that I realised I was a carer.
Until then I was a husband doing my best to provide support and assistance, without serious consideration for the support and assistance I needed, or where to go to find this. And then there comes a point when you realise you simply can't cope on your own, you need professional intervention and advice, only to be faced with a vast canvas of sometimes conflicting options.
It was during this time that I became aware of Caring Together and the services they offer which were appropriate for my geography as I live in Cambridge, and appropriate for my needs as a long-term carer. Subsequently I have accessed each of homecare and Listening Ear, benefitting from both.
And however essential the assistance provided by other agencies, if I needed them in the future, I would effectively need to start again. The particular advantage of Caring Together in this context was that they were always reassuringly there, and provided an excellent service.
When they indicated they were planning to almost forensically examine their business model, with the aim of ensuring this service excellence related directly to what the carers they sought to help both wanted and needed, I determined to offer my help.
I participated in a series of workshops under the headline of carer voice and involvement steering group. I would like to record at this stage what a courageous decision by Caring Together I judge this to have been. It is my experience that very few organisations would be willing to be assessed in this way from the board downwards, or to then commit the necessary resource to enabling any emerging improvements.
The carer council emerged from this consultation process with a remit to ensure that the voice of carers is heard and evident in the agreed strategic direction, operational activity, and continuous improvement of Caring Together.
But if it is to deliver this, it needs more carers to join the discussions, including young adult carers, parent carers and former carers, to ensure a diverse range of lived experience and thinking.
Those interested will only need to attend quarterly Zoom meetings, which will be a maximum of two hours each. Some understanding of the challenges carers face in navigating the health and social care system will be valuable, together with suggestions for improvements. And overall, to want to make a positive difference to the lives of other carers.
Caring Together will reimburse reasonable expenses and look to coordinate replacement care if needed to enable carers to be part of the council.