Hellesdon High School has once again been awarded Caring Together's Carer Friendly Tick Award – Education, in recognition of their continued work to identify and support carers.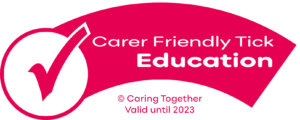 Abby Thetford, pupil premium mentor and wellbeing coordinator at Hellesdon High School, said, "Having a growing awareness of the significant but hidden role young carers have at home, we felt that it was important we try to identify who these students are, recognise challenges they may face and do our best to support them in our school.
"Many more students who are caring have become known to us in recent years, and we feel confident helping students in a range of ways – providing social opportunities, accessing wellbeing support and helping young people to access a carers assessment. I think it is important for every school to aim for the Carer Friendly Tick Award; we are delighted to continue being recognised as a school which supports our carers."
The school has named their young carers group the Hellesdon Heroes!
The Carer Friendly Tick Award was originally developed for education by young carers from Caring Together's Norfolk Young Carers Forum (NYCF) project. The forum assesses applications from schools and colleges and awards the Carer Friendly Tick Award to those that have worked hard to identify and support young carers.
Andy McGowan, head of engagement at Caring Together, said: "Young carers told us that their education and mental health had been negatively impacted during the various COVID-19 pandemic lockdowns and restrictions.  Projects that take the initiative to identify and support young carers at school are hugely important and makes a real difference.
"Therefore, we are very pleased to see Hellesdon High School continuing to have their work to identify and support young carers recognised by the Carer Friendly Tick Award. We want to congratulate them on this and to thank them for the work that they are doing which brings real benefits to young carers and their families."
The Carer Friendly Tick Award is a set of standards which were designed with carers, and which are assessed entirely by carers. The awards are part of  our work to help raise the awareness of carers in the community with health, social care and education professionals, and employers and they have now been rolled out across Norfolk, Peterborough and Cambridgeshire.
For more information about the Carer Friendly Tick Award please visit caringtogether.org/carer-friendly-tick or email [email protected]