As part of anti-bullying week, Norfolk Young Carers Forum member Conner was invited to the launch of the "Stop Speak Support" campaign at YouTube Space. This campaign has been put together by The Royal Taskforce on cyber-bullying and is designed to help address the impact of cyber-bullying, focusing on young people as well as social media companies. It is a tool designed to help young people make smart choices online when it comes to their interactions with their peers.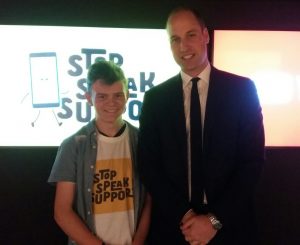 The campaign was launched by the Duke of Cambridge, Prince William, and at the event, Conner had the opportunity to speak to the Duke about the campaign and why it is so important.
Over the past year, three members of Norfolk Young Carers Forum have helped put the campaign together at numerous events at venues such as Sky Studios and YouTube Space working with representatives from anti-bullying organisations and social media companies. They helped to design some of the key messages of the campaign as well as ideas around the name and how to publicise the campaign as widely as possible.
Norfolk Young Carers Forum Lead Worker, Andy McGowan said,
"We know that bullying is a big issue for young carers, with as many as 68% experiencing bullying and a quarter of young carers facing bullying specifically because of their caring roles. This is why the forum was very keen to be part of this project with NSPCC as well as other anti-bullying organisations. We hope that the "Stop Speak Support" campaign can help reduce the prevalence and impact of cyber-bullying."
For more information on the Stop Speak Support campaign.
If you would like any more information about our involvement in the project, please email [email protected]