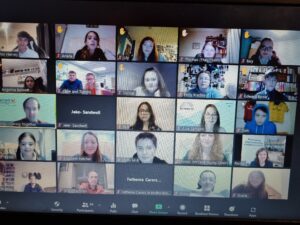 Young carers came together on the eve of Carers Rights Day to tell the children's commissioner for England about the challenges they face and what they would like to see changed.
We were delighted to host the online meeting, which saw 20 young carers from across England share their views and experiences with children's commissioner. Dame Rachel de Souza.
The children's commissioner, whose role is to promote and protect the rights of children, especially the most vulnerable, said young carers were at the top of her list and she is keen to listen to their views and interests. She agreed that she would take their feedback to the policymakers and people who make decisions that affect their lives.
The young carers talked passionately about lack of availability of young carer's assessments, the stress of juggling education and caring, and not being given the authority to pick up their parent's medication from the pharmacy.
There was an agreement that schools have a key role in identifying young carers, and that this is not happening across the board.
A young carer told the children's commissioner that his caring role was having an impact on his emotional wellbeing and accessing mental health support is a struggle. He made the point that, if he became unwell, who would care for his parents?
The hour-long meeting came to an end with the children's commissioner thanking all the young carers for their views and agreeing that the meeting was the start of a longer conversation and looked forward to meeting with them again.