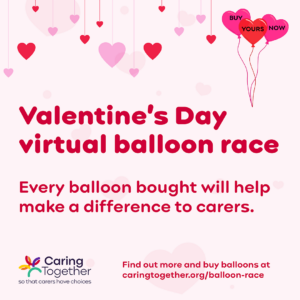 We are asking you to show your support for people looking after a family member or friend by getting involved in our virtual balloon race which will launch on Valentine's Day.
Each virtual balloon, that costs just £4 will help us do more to help and support carers and their families across Cambridgeshire, Peterborough and Norfolk. And by entering the race your balloon could win you an iPad, £500 or book vouchers.
Miriam Martin, Caring Together chief executive said, "This is an opportunity for us all to show our love and support for carers, have some fun with balloon designs and compete for some great prizes.
"While the balloon race is virtual the prizes are very real, and more importantly the benefits to carers are real and hugely important.
"The coronavirus pandemic has had a significant impact on people looking after a family member or friend.
"Carers show a huge amount of love and care for the people they look after every day and have done so through very difficult times. It is really appropriate we launch these balloons on Valentine's Day to show the love and support we all have for those with such an important role."
The balloons will be virtually launched on Valentine's Day, 14 February, from the Trevi Fountain in Rome with race software using live weather data to determine the progress of each balloon.
Once you have bought your balloons you choose their names, colours, shapes and patterns. You also choose different features of your virtual balloons that affect how they fly and, therefore, how far they go, and your chances of winning one of the prizes.
You can find out more about the balloon race at caringtogether.org/balloon-race and see more about the work of Caring Together at caringtogether.org