We have a lot of opportunities for young carers and young adult carers coming up. See below for details.
And for a full list of the events and activities we have coming up please click here.
Win vouchers in our young carers and young adult carers survey
Ahead of Young Carers Action Day we have a survey open to young carers and young adult carers to find out how they have been affected by the COVID-19 pandemic. There are two £50 giftcards up for grabs – and if a young person is part of a young carers organisation/group, their group will also be entered into a prize draw to win £100 for that group!
Here are the links for the survey and it should take 5-10 minutes to complete:
Bursaries for young carers/young adult carers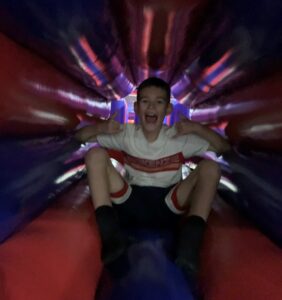 Over the past year, we've been able to provide over £20,000 in grants and bursaries to young carers and young adult carers across Cambridgeshire, Peterborough and Norfolk. This has helped young carers to access home learning, have a break from their caring role, or to buy essentials in an emergency when things have gone wrong at home (e.g. the freezer has broken). We are delighted that thanks to funding from BBC Children in Need and our own fundraising, we are in a position to support even more young carers and young adult carers over February and March to reduce the impact that the COVID-19 pandemic has on their health, wellbeing, and education or employment.
You can download information on how to apply here [PDF 155kB]
And the application form is available by clicking here [Word 251kB]
Young adult carers – Inspiring Change project
Young adult carers aged 16-25 across Cambridgeshire and Norfolk have an opportunity to join other young adult carers as part of this project aimed at improving the mental wellbeing of young adult carers.
As well as helping to raise awareness of young adult carers and helping organisations such as hospitals, employers and colleges/universities to be carer-friendly, they will also help with planning a range of activities to help improve the mental wellbeing of young adult carers.
If you're a young adult carer who would like to meet virtually with other carers your age, and help to make a difference, email [email protected]
Join Norfolk Young Carers Forum
Are you a young carer who wants to help make things better for young carers and help more people understand what being a young carer is like?
Young carers from across Norfolk meet regularly (on Zoom at the moment) to help raise awareness of young carers and to plan campaigns or events to make adults and other young people aware of young carers.
They also have the chance to get involved with opportunities including TV / radio / newspaper interviews, helping recruit staff, raising awareness of young carers nationally with people like MPs and much more. If you want to find out more – contact [email protected], call 0345 241 0954 or text/Whatsapp on 07843 329 674.
Support for siblings
We know that for many brothers or sisters of children with disabilities or additional needs, they can miss out on breaks from their caring role, or on spending quality time with their sibling. Through our team of trained workers, we are able to provide these children with a much-needed break and fun opportunities – this could range from supporting them to do a fun activity together with their brothers or sisters such as baking or cooking, to taking the young carer out to do a fun activity (e.g. trampolining, bowling, or even just going for a milkshake). If you know any young carers involved in helping to look after a brother of sister who could benefit, get in touch.
Find out more
You can email [email protected] or call 0345 241 0954 to find out more about what is available.