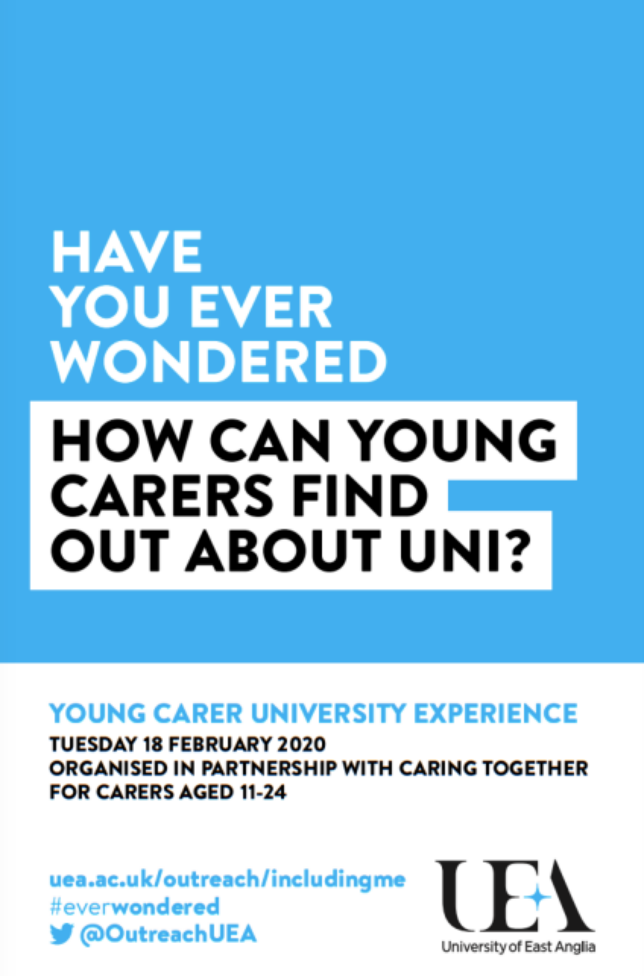 The University of East Anglia Outreach Team are holding a day where young carers and young adult carers can go along to find out about life at the university. Whether you are already keen to go to university or just want to find out more this event is suitable for you.
Taking place on Tuesday 18 February this event is aimed at young adult carers and young carers aged 11+. It is an opportunity for you to:
Explore UEA
Meet current staff and students
Find out about the support and help available to carers studying at University
Be inspired!
The event is from 10.30am – 15.00pm at UEA, Norwich NR4 7TJ.
Click here to reserve a place. Contact Liz Ferguson, UEA outreach officer with any questions about the event by emailing: [email protected]
UEA's outreach team earned the Carer Friendly Tick Award – Education in September with the award recognising their work and commitment to identifying and supporting students who are carers.
Click here for more information on the UEA outreach team becoming recognised as carer friendly.
About the Carer Friendly Tick
The Carer Friendly Tick Award was initially developed by Norfolk Young Carers Forum (NYCF), which is a project funded by the National Lottery Community Fund and facilitated by Caring Together to support young carers and young adult carers to have their voices heard.
Following on from the success of our Carer Friendly Tick – Education, the award is now being rolled out across Cambridgeshire, Peterborough and Norfolk, with this accreditation programme extended to include three other groups:
Community groups
Employers
Health organisations
The award recognises the valuable work done to identify and support carers carried out by each type of organisations. At Caring Together, we are delighted to see so many organisations get on board with becoming recognised as carer friendly and completing the award.
Click here for more information about the Carer Friendly Tick. If your organisation wants support and guidance to work towards these awards and be given recognition for how you identify and support carers that you work with, then get in touch by e-mailing [email protected] or call us on 0345 241 0954.