We are hugely appreciative of the support many of you have shown for carers by your fundraising in the run up to Christmas.
The money you have raised and donated helps us do more to provide essential support and activities for people who look after a family member or friend.
Here's how you have been making a difference…
Thank you to everyone who donated to our Christmas appeal and bought Christmas cards and took part in our Mince Pies and Coffee. Together, we have raised over £4,500 which is simply wonderful. We sold almost 200 packs of Christmas cards which means that not only have you helped raised much needed funds by buying the cards but also by sending the cards you have helped raised awareness of the charity and helped us identify unpaid carers who need our support. All the money raised from the Christmas appeal and the Christmas cards and Mince Pies and Coffee will go towards helping us fund our services for carers aged five years and upwards living in your local community.
Christmas Day Swim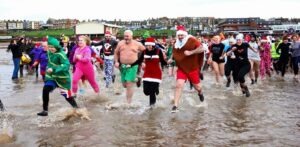 On Christmas Day over 90 very brave people took a dip in the North Sea at Hunstanton to help raise funds for young carers living in Norfolk. It was a welcome return for this event that due to covid had been postponed for the past three Christmases. The organisers, Hunstanton and District Round Table put on a spectacular event with people arriving as mermaids, Christmas parcels, elves and Father Christmas. It was an amazing sight to see. For those of you who are familiar with Hunstanton beach, the event took place at high tide so that there wasn't too far to walk. One participant did comment that "it was freezing!" It was certainly one way to build up an appetite for Christmas lunch! Everyone at Caring Together would like to say a huge thank you to everyone who took part and to everyone at Hunstanton and District Round Table for choosing us as their charity.
Maxine Lester Lettings and Property Management
Thank you to all the staff at Maxine Lester Lettings and Property Management who chose Caring Together as their charity for their Christmas appeal and raised a magnificent £1,820 towards helping to fund our services to unpaid carers across Cambridgeshire.
March Day Club
Thank you to all staff and members of the members of the March Day Club who held a Christmas raffle and raised £130. All the raffle prizes had been donated by local companies.
Festive fun in the build up to Christmas
Claire from our awareness team has raised more than £200 by wearing a range of festive outfits each day in the build up to Christmas.
Do you want to fundraise to help carers in 2023?
If you, or your family and friends, are physically able perhaps you could plan an activity to get healthy and support carers in 2023. Whether you would like to walk, run, swim or cycle, you can get fit and raise vital funds to support our services. Taking on a physical challenge for charity is a great way to motivate yourself and give yourself a focus!
We have step by step instructions to help you plan your activity and raise funds.
There are also lots of other ways to support our work. For example, you could celebrate an occasion in 2023 by requesting donations to Caring Together instead of gifts.
See our step-by-step instructions.