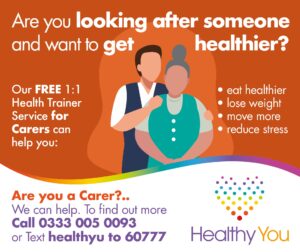 If you look after a family member or friend, it can be hard to make it a priority to take good care of yourself. And the thought of  changes may seem daunting.
Healthy You has a new 'pilot' carers health trainer service for carers living in East, South and City areas of Cambridgeshire the aim is to help them make manageable steps to being healthier – including being given one-to-one support to know what will work well for them.
Susan Mayes, Healthy You's carer health trainer explained how she works with carers to put their needs first and work with them on an approach that works for them, "For carers taking care of themselves can be a challenge, but it is important and we can help them identify ways that they can improve on their health and well-being which take account of their caring responsibilities."
"We start with a one-hour initial assessment appointment where I can really get to understand more about the carer and what will work for them.
"And this is followed by six 30-minute appointments – all set at a convenient time for the carer. These appointments can be weekly, fortnightly or whenever it is convenient, spread over up to a year.
"We will look at simple, small changes, and set achievable goals that can have a long-lasting impact. We know it can be difficult to fit around your daily routine, so we look at what is best for your lifestyle, give you the support you need to be healthier."
"If you are wanting to get more active, looking to lose a few pounds but not sure how to start please get in touch."
The type of changes that carers can be helped with include:
Simple steps to being more active.
Doable ways of having healthier eating.
Achievable changes to lifestyle that you can start to introduce.
Ways to introduce activity that may help improve your sleep.
To find out more call 0333 005 0093 or text healthyu to 60777.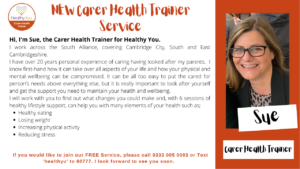 There are many surveys and reports completed regarding carers health and how caring for a loved one impacts on them.  They all say very similar outcomes– around 60% of carers reported a long-term condition, disability or illness compared with 50% of non-carers (Carers UK & Sport England) Ill health rose with the number of hours of care delivered by carers.
Nationally almost 390,000 carers reported being in bad health and carers, caring 50 hours or more a week, are twice as likely to be in bad health as non-carers. (Census 2011)