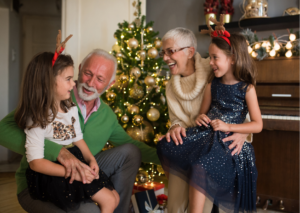 In the run up to this Christmas we are asking you to help us make sure that carers have someone to talk to.
Looking after a family member or friend can be very hard, and at this time of year the advice, information and support we have available to carers can be all the more important.
Your donation can help carers.
Claire from our helpline team has explained why what she and the rest of the team do, and the support they help carers access, is so important.
How you can help carers in run up to this Christmas
Firstly, let me introduce myself and say hello. I'm Claire, and I work on Caring Together's helpline. That means I am one of the team who answers the telephone each time it rings, and I talk to carers and their families living in Cambridgeshire, Peterborough and Norfolk. 
I am part of the team who give people looking after family members or friends advice and information, and help them find the support they need. 
The people I speak to may have just become a carer, and completely new to a situation that has turned their life upside down. Others have been caring for a loved one for many years, and have reached a point of crisis, or where they need help or support they have not had before. 
Everyone I speak to has their own story about why the person they care for needs their care. My colleagues and I tell them how they can get help and support they need. I may well have spoken to some of you. 
How you have made a difference
The continued support of people like you means we can help more carers in your community in the way they want and need. 
Whether you have taken part in our Summer raffle, made a donation, bought Christmas cards or supported us in another way, we are hugely grateful for your support. 
Thank you so much, you have made a difference to carers in your community. 
How you can help this Christmas
I hear first-hand from carers each day about the struggles they and their family encounter. 
Due to the COVID pandemic many carers have not had their usual support, with family and friends not able to help in their normal ways for a range of reasons due to restrictions, or the person they care for having to shield. 
But your support has meant that the helpline and our services have been here to help carers in every situation throughout the pandemic. 
On average the team I am part of take around 52 phone calls a day from carers, with others contacting us by email. They each have their very personal situation that we are here to help with. We may be able to help them buy essential equipment or give advice on benefits. Some may need to access our Listening Ear service or counselling support. They may feel isolated and benefit from joining one of our online or face-to-face groups. Or we could be helping them access any one of the other services we or our partners offer. 
We are here for carers in Cambridgeshire, Peterborough and Norfolk, whatever problems or challenges they're facing. 
Christmas is often a very challenging time for carers and the people they care for. The coronavirus pandemic has made things even more difficult. 
Could you help us with a donation gift this Christmas?
You can help us make a difference to carers across Cambridgeshire, Peterborough and Norfolk. As one carer has said of our team, "I don't know what I would have done if they were not at the end of the phone to help me," and another told us "…your support truly has made the world of difference to the children and I." 
Every donation means we can do more to help carers – both in the calls we answer and with the support we can then provide for each person looking after a family member or friend. 
How you can donate