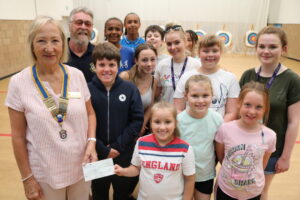 Huge thank you to St Ives Rotary Club, and the family of one of their members, for the kind donation of £575 towards the funding of our activities for young carers.
The money was raised in memory of Rotarian Bob Chasse, who always had the needs of young carers close to his heart. Bob's wife kindly arranged for half of the donations given at his funeral to come to Caring Together.
Sally Heffer-Martin, president, St Ives Rotary Club said the club has continued to support our young carer activities because, "they are children giving up their childhood to care for a family member and we want to give something back to them."
Our young carer activities across Cambridgeshire and Peterborough give young people looking after a family member an opportunity for a break from their caring responsibilities.
A family member told us, "The young carer's group helps my granddaughter have a break from her brother who she helps to care for."
"She also has much more confidence and she is taking part in activities that she would never have done before."
Click here for further information about our young carer support, includes a link to our young carer activities. 
For further information about giving in memory of a loved one see https://www.caringtogether.org/remember-a-loved-one