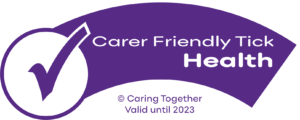 Staff from a community paediatrics team at Cambridgeshire and Peterborough NHS Foundation Trust has been awarded a Caring Together's Carer Friendly Tick Award (Health), in recognition of their work to identify and support unpaid carers.
The team in Peterborough is an out-patients and community service, providing support to children, young people and their families who have a range of development concerns and disabilities.
Zqur Jackson, healthcare assistant and carers champion with the community paediatrics team at the Trust, said: "We applied for the Carer Friendly Tick award as we were aware that many of the parents and siblings who use our service were unaware they were carers. We wanted to show our families and colleagues that we care and recognise that they are carers. We also wanted to have something in place to really support and guide carers. We hope we have achieved this."
On behalf of Caring Together, a charity supporting people caring for family members or friends, a panel of carers assessed the submission from the team.
The panel were impressed by the work being done in the team, and the impact that this has on both carers and those they care for.
The team was awarded the Carer Friendly Tick Award for reasons including:
Carers champions within the team volunteer for the position and many also identify themselves as carers.
Carers are supported and appropriate advice given during consultations.
Carers agreement has been drawn up in consultation with staff and carers.
Carers agreement includes a list of responsibilities for carer's assessments.
Connecting with carers through involvement with a local special school.
Andy McGowan, head of engagement at Caring Together, said, "We want to congratulate and thank the community paediatrics team for their work to identify and support carers of all ages.
"It is great to see that the trust overall has a formal policy for carers covering all departments which includes comprehensive information for carers including advice about the Carer's Assessment process, together with advice and sources of support for different groups of carers, such as adult carers, parent carers and young carers."
He added: "We hope that other health organisations, schools, colleges, universities, and communities, will follow in this good work. They can develop their own ways to identify and support carers, and we are here to help them do this. As the number and awareness of carers grows this will be an ever more important part of making sure carers are given the recognition and help, they deserve."
Click here to read more about our Carer Friendly Tick Awards and how your organisation can support carers.