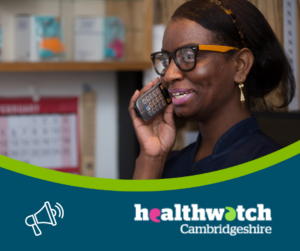 Healthwatch Cambridgeshire invite you to help health and care services in Cambridgeshire make care more equal for the people in your community.
Some people can find it harder to get the care they need and have worse health than people in the general population.
The local NHS and care services want to know how they can make services better for everyone. What has made it harder for you to stay well? And how could the NHS and care services help you do this?
Join one of the focus groups below and have your say. You won't be identified in any feedback to the NHS.
You will receive a free £20 Love2Shop voucher as a thank you for taking part.
Workshop dates and locations
Wednesday 22 August, 10.30am-12.30pm
Children's Centre, Pratt Street, Soham, CB7 5BH
Wednesday 24 August, 5.30pm-7.30pm – For people whose first language isn't English
The Meadows Community Centre, 1 St Catherine's Road, Cambridge, CB4 3XJ
Monday 5 September, 10.30am-12.30pm
Free Church, 1 High Street, Sawston, CB22 3BJ
Tuesday 6 September, 1.30pm-3.30pm – For rough sleepers
The Lighthouse Centre, 11-13 Lynne Road, Ely, CB7 4EG
Wednesday 7 September, 5.30pm-7.30pm
East Barnwell Community Centre, 640 Newmarket Road, Cambridge, CB5 8RS
Wednesday 14 September, 5.30pm-7.30pm – For Gypsies and travellers
St Mary's Church, 16 High Street, Burwell, CB25 0HB
Workshops are open to everyone.
Places are limited and pre-booking is essential. Let Healthwatch Cambridgeshire know if you need information in a different format.
To book
Click here to book your place via the Healthwatch Cambridgeshire website.
Alternatively, call 0330 355 1285/text 0752 0635 176 or email [email protected]
COVID-19 safety
Healthwatch Cambridgeshire will follow public health advice to help keep you safe from COVID-19 at their event. This includes making sure our venue is well ventilated and that you are able to socially distance from others.
Please do not attend if you have any symptoms of COVID-19 or have tested positive in the last ten days.