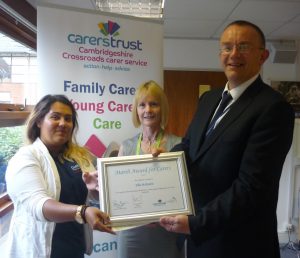 Great news for Ella McKenzie, a Young Adult Carer supported by Carers Trust Cambridgeshire, who is one of the eight regional winners of the national Marsh Award for Carers 2015 competition.
The Marsh Award for Carers recognises carers or former carers for their contribution as volunteers and their support of other carers.  Ella, who cares for her mum, became a young carer at 15.  She became involved in the charity's Young Adult Carers Project (STRIVE) 18 months ago, when she was 18.
Amongst other things, Ella used her own initiative to approach her local GP surgery, to raise their awareness of Young Carers & Young Adult Carers who often have their own health issues overlooked or are not recognised as carers.  This can often have a lifelong impact on young people.  The surgery was very responsive and invited Ella to help them and Ella spoke about her own experiences and suggestions to 6 GPs and practice staff.
Ella said "I am delighted to have won this award.  Its recognition for all young carers and young adult carers who are invisible but yet do so much."
A Carers Trust Cambridgeshire, Peterborough, Norfolk spokesperson, said "Ella is an exceptional young person.  She has used her experience as a young carer to give back and works tirelessly to raise the profile of Young and Young Adult Carers within our area and beyond."  This idea has also been taken up by other Young Adult Carers within the STRIVE project and they are now linking in with their own surgeries to raise awareness of carers of all ages.
Adrian Loades, Executive Director: Children, Families and Adults Services was delighted to present Ella with her certificate and a cheque for £250.
Dr Helen Brown, Chief Executive said "Young Adult Carers are a special group that require special attention and services.  We are delighted that this is recognised and grateful to Cambridgeshire County Council and Carer Trust's Co-Operative 'Time for Change' funding for financial support to be able to help Ella and other young people with caring responsibilities."