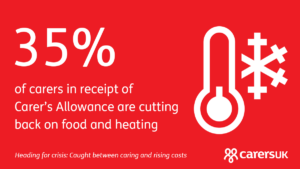 We have joined Carers UK and 64 other organisations in calling for the Chancellor of Exchequer, Rt Hon Jeremy Hunt MP, to provide targeted financial support to unpaid carers in his upcoming Autumn statement on Thursday 17 November.
An open letter, signed by us and the other organisations, has been sent to the Chancellor, asking him to seriously consider the severe impact that the cost-of-living crisis is having on unpaid carers of all ages.
The letter states, "as many as 10.6 million people are now providing some form of unpaid care across the UK; the staggering levels of care and support that they have provided during the pandemic, estimated to be worth around £193 billion per year, has undoubtedly played a key role in supporting our formal health and social care systems. But this has come at an enormous personal cost to unpaid carers.
Carers UK research found that;
Over a quarter (27%) of carers said they were struggling to make ends meet.
Carers in receipt of Carer's Allowance were more likely to be struggling to make ends meet (39%).
A quarter of carers (25%) said they were cutting back on essentials such as food or heating, nearly twice as many compared to 13% last year.
The majority of carers (63%) said they were 'extremely' worried about managing their monthly costs.
77% said that the rising cost of living was one of the main challenges they would face over the coming year.
It is vital that carers, particularly those on low incomes or rely on Carers Allowance, are provided the financial security they desperately need. We are asking the Government to:
Uprates all benefits, including Carer's Allowance and the Carer Element of Universal Credit, in line with current levels of inflation before next April – ideally as soon as possible – to ensure that vulnerable groups can survive the winter months.
Provide a top up payment for unpaid carers with an entitlement to Carer's Allowance to support them through the winter and recognise the additional costs they are facing amid the unprecedented cost of living crisis.
Raise the earnings limit for Carer's Allowance to the value of 21 hours work a week at the National Living Wage rate (i.e., £199.50), to allow carers to work more hours a week where they are able to do so, without losing their entitlement.
Review all carers' benefits, including Carer's Allowance, to ensure that these work well at supporting all types of unpaid carers and preventing them from falling into financial difficulties as a result of their caring role.
Read online or download the joint open letter to the Rt Hon, Jeremy Hunt, Chancellor of the Exchequer, regarding the unprecedented cost of living crisis facing unpaid carers [PDF, 118kB].