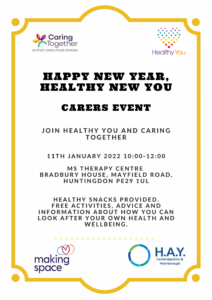 We are delighted to be joining Healthy You, H.A.Y (Cambridgeshire and Peterborough) and Making Space for a carers health and wellbeing event.
If you are looking after a member or family friend, then come along and take part in free activities and receive advice and information about how you can look after your own health and wellbeing.
The event is on Tuesday 11 January, 10:00am – 12:00pm at MS Therapy Centre, Bradbury House, Mayfield Road, Huntingdon, PE29 1UL.
You can go along for:
Mini MOT's – blood pressure check, and height and weight taken for a BMI measure.
A nutritionist – available to ask any questions on healthy choices
Falls prevention team – practitioner showing exercises on strength and balance
Exercise referral scheme to advise what classes are in community
H.A.Y, Making Space and Caring Together will have information stands
Healthy snacks will be provided.
People who have attended previous Healthy You events said it was a "great opportunity to meet other carers, sit and chat and find out all about being healthy" and "who knew exercising can be fun. Not me, today has changed my mind about this completely."
You can also click here to read more about Healthy You's carers health trainer service for carers living Cambridgeshire. The aim is to help you make manageable steps to being healthier – including being given one-to-one support to know what will work well for you.