Fosters Solicitors has been awarded Caring Together's Carer Friendly Tick Award (Employers), in recognition of their work to identify and support carers within their workplace.
The renewal of the award was decided by a panel of carers who assessed the submission on behalf of the charity which supports people caring for family members or friends.
Fosters Solicitors has 140 employees across their branches in Norfolk and Suffolk.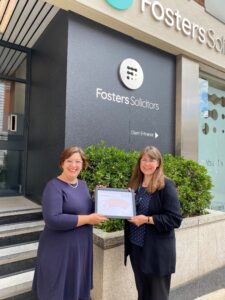 Heather Brown, head of staff care at Fosters Solicitors, said "For us, signing up to the Carer Friendly Tick Award as an employer was all about helping our current and future employees feel supported when balancing any personal caring responsibilities with their own career development.
"We aim to provide a supportive environment through our specific carers policy and our wellbeing champions, and our work with Caring Together has given us access to training and resources which has helped raise our internal awareness about caring, especially when it comes to understanding that circumstances can change at any moment and many people don't think of themselves as carers.
"We are therefore delighted to have been awarded this accreditation again and to continue our relationship with Caring Together, and would like to thank them for all the work they do in supporting carers in our community."
The panel of carers who assessed the submission were impressed by the range of work being done to identify and support staff who are caring for a family member or friend.
The company received the award for reasons including;
They have a dedicated carers lead and wellbeing champions who listen to carers and signpost them to support.
The company seeks the views of carers to improve their policies.
They have a carers agreement which clearly sets out how they support carers, for example flexible working arrangements.
They actively promote carers events and campaigns, such as Carers Week and Carers Rights Day.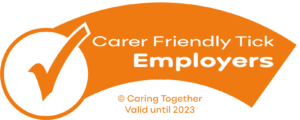 Andy McGowan, head of engagement at Caring Together, said, "With three in five of us likely to be a carer at some stage in our lives we are seeing more and more employers in Norfolk recognising the importance of identifying and supporting carers within the workplace.
"We are very pleased to see Fosters Solicitors having their work to identify and support carers recognised by the Carer Friendly Tick Award (Employers) again. We want to congratulate them on this and thank them for the work that they are doing which makes a real difference to carers.
"We are pleased to see that the company understands the challenges carers face and the potential limitations their caring role may have on their day-to-day work and career prospects. The understanding and support of employers can make a huge difference to carers and the people they look after.
"We hope that other communities, schools, colleges, universities and health organisations, will follow in this good work. They can develop their own ways to identify and support carers, and we are here to help them do this. As the number and awareness of carers grows this will be an ever more important part of making sure carers are given the recognition and help they deserve."
Read more about our Carer Friendly Tick Awards and how your organisation can support carers.
Photo:  Zoe Bunter, head of fundraising at Caring Together presents Carer Friendly Tick Award (Employers) certificate to Heather Brown, head of staff care at Fosters Solicitors.