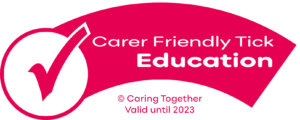 East Norfolk Sixth Form College has been awarded Caring Together's Carer Friendly Tick Award (Education), in recognition of their work to identify and support young adult carers.
Jane Palmer, progress tutor and carer lead at East Norfolk Sixth Form College in Gorleston-on-Sea, said they were delighted to receive the award in recognition of their work to ensure students caring for a family member have the best support in place for them to have a successful college experience.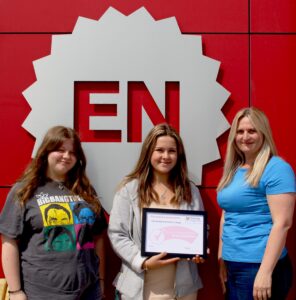 She added, "We recognise that some students may need more support or tailored support to achieve the best outcomes personally and educationally. We applied for the award as we wanted everyone in our community to be aware of our offer for young adult carers and know that we strive to give all our students a fully supported college life.
"For us, having the award shows our students and families that we are committed to working with our young adult carers. We take their challenges seriously and work with them and their families to offer not only support and activities but link them into funding and other opportunities available."
The college received the award for meeting the Carer Friendly Tick Award standards, which were designed by carers, and the application was assessed entirely by carers.
The college's work to identify and support carers includes;
a dedicated young adult carer's champion who is in regular contact with the college's carers and signposts them to external support if required,
a young adult carers information display board with relevant information,
awareness raising sessions, including during Carers Rights Day.
Andy McGowan, head of engagement at Caring Together, said: "As we move out of the COVID-19 pandemic, young adult carers have told us how their education and mental health has been impacted by the various lockdowns and restrictions over the past few years.
"Therefore, we are incredibly pleased to see education settings such as East Norfolk Sixth Form College, taking the initiative to identify and support their student with caring responsibilities.
"We want to congratulate them on having their work to identify and support young adult carers recognised by receiving the Carer Friendly Tick Award, and on the work that they are doing which brings real benefits to young carers and their families."
The Carer Friendly Tick was originally developed for education by young carers from Caring Together's Norfolk Young Carers Forum (NYCF) project. It has now been rolled out across Norfolk, Peterborough and Cambridgeshire and includes community, health, and employer awards.