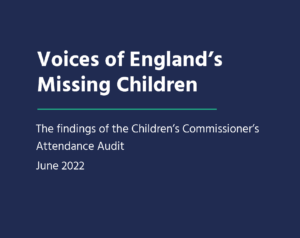 Caring Together has welcomed the news that the Children's Commissioner for England is calling for a range of measures to be put in place to help improve the early identification and support of young carers across the country.
Proposals include calls for:
A joined-up approach between schools, local authorities and other professionals such as health services to identify young carers.
Each school to introduce measures to identify which pupils are young carers in their school and ensure young carers are supported at key transition points in education such as primary to secondary school.
Every school to have a young carers champion so young carers have someone to talk to, and a young carers policy outlining support available in place.
Young carers to be made eligible for pupil premium funding so that schools are able to provide them with the support they need
The recommendations follow the findings of an Attendance Audit. This looked in detail at 10 local authorities to understand more about children who are not attending school regularly or who are out of school altogether.
As part of the research, young carers spoke about their experiences of struggling to balance their caring role with school and homework.
Miriam Martin, chief executive of Caring Together said, "We are delighted that the Children's Commissioner for England is making these specific recommendations which will help ensure young carers are identified and receive the support they need and deserve. They echo calls that Caring Together and other carers organisations have been making for some time.
"For years, young carers have consistently said how having someone to talk to in school, and support to help them balance caring with learning can make a huge difference. The measures being called for would be extremely effective at changing the experiences of the hundreds of thousands of young carers across the country. Making young carers eligible for pupil premium would also help ensure that the schools have the resources they need to make this support possible.
"The calls for a designated lead for young carers and a specific young carers policy directly aligns with criteria we have in place for our Carer Friendly Tick Award, an award which was created and is assessed by young carers themselves. The fact so many schools have already applied for, and been awarded, the Carer Friendly Tick Award (Education) shows how schools also recognise the value of young carers being identified and supported.
"But these measures should be something every young carer is able to benefit from, irrespective of what school they attend.
"As the Children's Commissioner, Dame Rachel de Souza, has recognised, too many young carers are missing school due to their caring roles and consistent, effective action is needed. At this time, without a systematic approach to identifying young carers and ensure schools have the resources to provide them with the support they need, many young carers go hidden, and therefore unsupported for far too long.
"In addition to the undoubted benefit these changes would have for young carers, the focus on supporting mental health of children within school and the commitment to getting SEND support right for disabled children will also be of real benefit to parent carers across the country."
A full copy of the report can be found at www.childrenscommissioner.gov.uk/2022/06/15/the-childrens-commissioner-publishes-voices-of-englands-missing-children-report/