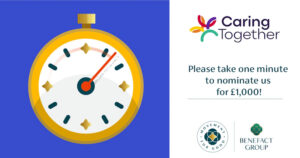 Do you have a minute or two to spare? If you nominate us for a Benefact Movement for Good Award you could help us provide more vital support to unpaid carers across Cambridgeshire, Peterborough and Norfolk.
Please hurry because the more nominations we get, the greater chance we have of winning the £1,000 grant.
There are three draws taking place this year – June, September and December.
Winners of the first draw will be announced 12 – 16 June 2023.
All you need to do to get our charity into the draw is simply fill in a short form.
Thank you for your support.
The Movement for Good Awards is the Benefact Group's annual programme of giving and this year they are giving over £1 million to charities and good causes across the UK, Republic of Ireland, Channel Islands or Isle of Man.