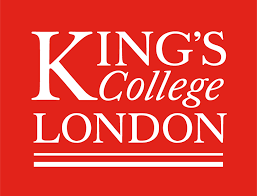 Researchers at Kings College London are looking for people who provide care or support to family, friends or neighbours to take part in an online study into carers' resilience.
They want to hear from carers varied backgrounds and who are caring for people with a variety of physical or mental health conditions.
You choose to be part of this research up until 29 October 2021.
The study invites carers to complete some questionnaires and a short task using their own tablet, laptop or computer, at home and at a time that best suits them.
A few months later they are invited to complete a very small selection of the questionnaires. This should take a total of around 40-60 minutes. As a small thank you for taking part, participants will be invited to enter a prize draw to win one of several Amazon vouchers worth £10, £25 or £50.
More detailed information can be found in the participant information sheet, which you can click here to download [PDF 146kB].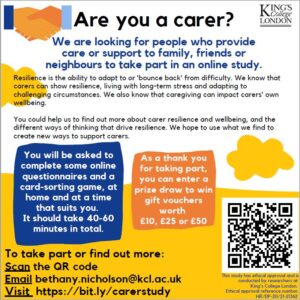 By taking part, carers will be helping the researchers to better understand resilience. They hope to be able to use this better understanding to create new ways to support carers, for example by targeting interventions to increase resilience and improve mental wellbeing.
If you take part in the study you can opt-in to receive a summary of the final results by email.
The authors of the study are Dr Colette Hirsch (reader in cognitive clinical psychology at King's College London & consultant clinical psychologist at the Centre for Anxiety Disorders and Trauma in South London and Maudsley NHS Trust), Dr Juliana Onwumere (senior lecturer specializing in severe mental illness and family issues at King's College London, and consultant clinical psychologist in South London and Maudsley NHS Trust) and Bethany Nicholson (trainee clinical psychologist at King's College London/South London and Maudsley NHS Trust).