Every year, the Care Quality Commission release a state of care report , an overview of health and adult social care in England.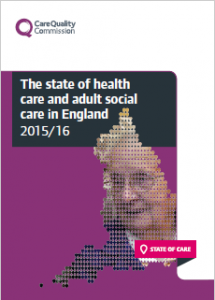 More than 80 per cent of GP practices and  38 per cent of the hospitals rated were found to be good or outstanding. Many care homes, home care agencies and other adult social care services are providing good quality care (71% rated as good and 1% rated as outstanding). However, the report discusses concerns about sustainability of quality from services under increasing pressure. CQC's views are that whilst adult social care services have been able to maintain quality, there are indications that the sustainability of adult social care is approaching a tipping point. Things may well get worse.
This will impact everyone and informal carers are mentioned more in this report than previously. CQC states that "For those people who are not eligible for public funding, and who cannot rely on private funding, we are concerned about an increased reliance on unpaid care and greater levels of unmet need. Estimates have been made of the value of unpaid or informal care provided to adults by friends or family. Although these estimates vary, there is an agreement that the use of informal care has been increasing substantially."
At Carers Trust Cambridgeshire, we see this increased reliance as inevitable and something many families will want to engage with and should contribute towards developing support systems. We support CQC in believing that:
Services that were rated good and outstanding engaged well with people who use services, their families and carers, and the community to design care plans, facilities and activities that meet people's diverse needs and preferences.