"I feel proud to be part of a team who are committed to providing the best possible support to families."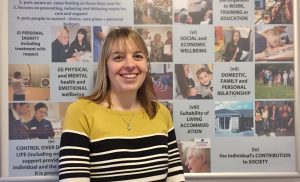 Nicky joined us in 2015, having previously worked as the Youth and Community Development Co-ordinator for the Children and Young People's Services in Huntingdon.
She always wanted to work with young people and in 2010 was awarded an MA in Health and Community Development with a Professional Qualification in Youth Work.  One of her first jobs was with Crossroads Young Carers and, at the same time, working for Ormiston Trust supporting young carers in Fenland.
She describes why she enjoys her job at Carers Trust Cambridgeshire:
"I love working with young adult carers as I feel they are often an almost forgotten age group.  They don't always fit into young people's services and adult services are not always geared up to support them.
"I am lucky to be part of some really good work supporting the transition of young carers through to young adult carers, as this is such a crucial time for them when making decisions about what to do next. The transition from further to higher education can also present challenges to young adult carers and I am fortunate to be able to offer support with this too.
"I love that we celebrate carers young and old, that we raise awareness and educate, that we listen to the views of the families and individuals we work with and that we develop our work in order to respond to need.
"I feel proud to be part of a team who are committed to providing the best possible support to families.  I love the 'can do attitude' that we have and the respect that we give families that we work with.  In terms of my specific role, it sounds cliché but I do feel that I can help to make a difference in the lives of the young adult carers that I work with.  Sometimes this is by providing very practical help, such as supporting someone to complete a funding application for a laptop to help with their studies.  Sometimes it is just about listening and not judging."
"I am proud to say that I work for Carers Trust Cambridgeshire.  Having a young family myself, I feel supported to be able to work flexibly.  I enjoy the camaraderie among colleagues at events and the shared passion we have for supporting carers."
Our work with young adult carers is paid for by grants and fundraising. If you can support us, or would like to know more about our work in this area, please call 01480 499090 or email [email protected].