Carer Friendly Tick Award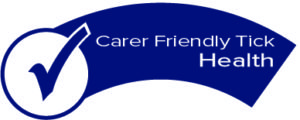 Our Carer Friendly Tick Award recognises organisations who work to identify and support carers. There is a category specific to health – whatever kind of health organisation you are from we can work with you to help you achieve the award.
Click here to view more about the Carer Friendly Tick Award.
See Jill explain more about the Carer Friendly Tick Award (Health)
Virtual Carers Week conference
This was held on Wednesday 8 June 2022 – 9.45am-3.15pm, with sessions for both carers and health professionals in Norfolk. All of the sessions were in line with the theme of Carers Week – making caring visible, valued and supported. It covered:
Carers passport
Effects of caring on mental health
Carer involvement in discharge
Effects of the COVID pandemic on carers
Next steps and closing
Resources
We have a range of resources available for use by those in healthcare settings.
 Linking in with health professionals
Young adult carer Tom, talks about his experiences of linking in with health professionals, such as GPs, pharmacists and the hospital whilst caring for his Mum. He also talks about what he would like health professionals to know about carers. This video was produced with Carers Voice Norfolk and Waveney and Norfolk and Waveney Integrated Care Systems.
Hospital discharge
James' story – a Norfolk and Norwich University Hospitals NHS Foundation Trust video on young adult carer James experience of care.
Jan's story – adult carer talks about her experience of caring for her husband and dealing with hospital discharge.
Young carers top tips for GPs
Top tips for GPs –  Caring Together worked with NHS England and NHS Improvement on a campaign to show GPs how they can make a difference to young carers.
Carer awareness training