Information and resources for employers.
Carer Friendly Tick Awards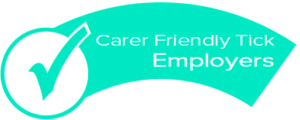 Our Carer Friendly Tick Award recognises organisations who work to identify and support carers.
There is a category specific to employers – whatever kind of business you are from we can work with you to help you achieve the award. This may be for your full company or for a specific department, branch or section of the business as is appropriate for you. Click here to view more about the Carer Friendly Tick Award.
Supporting us as a charity
The support of local businesses makes a different to the impact we can make on the lives of carers in this area. Whether it is fundraising, staff volunteering or another way that you can act to show your support for carers, we would love to hear from you. Please click here to find out more about how your business can work with Caring Together to help carers.