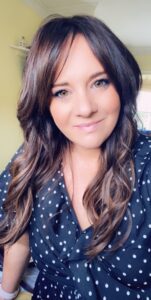 The volunteer team at Caring Together is growing steadily as we expand the services we can offer to carers. We caught up with one of our newest volunteers, Clare, to talk about her role and why she volunteers with Caring Together.
How long have you volunteered with Caring Together?
I signed up to volunteer with Caring Together back in July and after the appropriate checks were carried out, I was given the 'all clear' to start during September. I've really liked the way I have been communicated with from the start; the charity has keep me fully update on my application process and has given the correct tools and equipment to completed my role.
I've had (and have) to opportunity to contribute to fundraising ideas and planning, along with entering colleague completions. The charity has gone far and beyond to make me feel included.
What is your volunteer role?
I volunteer for the charity's 'Listening Ear' service where I have regular, weekly calls to carers. I have two ladies that I speak to every Tuesday and Thursday where we discuss anything from; how their week has been to how they are feeling. My ladies are both very different and in very different situations, it's nice that I'm able to support them differently. They have both told me how much my calls mean to them and how they look forward to hearing from me.
I ensure that I always call at the agreed time and I follow the volunteer guide to keep not only myself safe, but to ensure that I am discussing the appropriate topics.
Why did you want to volunteer with Caring Together?
I live in St Ives and wanted to make a contribution to my local community and demonstrate to my son the importance of giving back. The charity really stood out for me for being local and supporting residents in Cambridgeshire, Peterborough and Norfolk.
I visited the charity's website and took some time to research what they did, how they help carers and how I could get involved. I work full-time so I needed to be able to volunteer in my leisure time. The Listening Ear service ticked all the boxes for me as I can do this during the evenings and weekends.
Why do you like volunteering?
My life is very different to the ladies I speak to and although I do have knowledge and experience of some of their situations, we're not the same. If I'm honest the role makes me feel good – I feel helpful and that I'm making a difference to someone's day. I'm not really doing much apart from calling someone and asking them about their week, but I know it means so much more to them and I'm pleased I can relieve them of their responsibilities, for a period of time.
What is the best part of your role?
I didn't know how I would feel about calling strangers and discussing their personal life, I'm more of a face-to-face person and was concerned that the conversation might be awkward. I was very, very wrong; the conversations are so natural and I enjoy being able to make my ladies laugh and reminder them that they are human and also need attention. At the moment I'm supporting one lady to take some time for herself. On our call she couldn't wait tell me that her and husband were finally going out to lunch, on their own! I was so pleased that she had found this 'me time' and I couldn't wait to get a further update the following week. The best part of my role is that I don't only get to help other people, but I also feel my own purpose.
Could you join our volunteer team?
Clare is a fantastic addition to the volunteer team, and we are really happy that she, and all our volunteers choose to gift their time to carers and support Caring Together.
If you would like to join our team or find out more please do get in touch with Annie on 0345 2410954 or email [email protected].
Or you can see more about the volunteer roles we have available please see www.caringtogether.org/help-us-help-others/volunteering
If you would like a volunteer like Clare to call you for a chat or want to find out how the Listening Ear service could support you, please contact 0345 241 0954 or email [email protected]