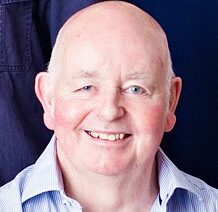 Could you provide a sympathetic ear to carers who need someone to listen to their worries or concerns about their caring role?
If you are a good listener and keen to support carers, then why not become a volunteer for our Listening Ear service?
The Listening Ear service allows carers to talk to one of our trained volunteers about the things that matter to them. It could be a general chat about how their day is going or advice on where to go for benefits advice. (Our volunteers do not provide a counselling service).
Whatever a carer wishes to talk about, a Listening Ear volunteer is at the other end of the telephone line to help them through their difficult journey.
Sam (pictured right) decided to volunteer for our Listening Ear service, after using the service himself whilst he was a full-time carer for his wife. He appreciated the regular telephone calls from a Listening Ear volunteer, which allowed him to chat through worries and concerns.
He said: "After my wife died, I felt that I could help other carers by providing a sympathetic ear, sharing experiences and helping them find practical solutions for some of their problems."
He added: "I thoroughly enjoy volunteering for the Listening Ear service. It gives me great satisfaction to be able to use my personal experience of being a 24/7carer to good practical use for current carers.
All our Listening Ear volunteers are fully-trained and we like them to be able to commit two to three hours a week between 8am and 5pm for a minimum of three months.
If you are interested in joining Sam in our Listening Ear volunteer team, then please email us at [email protected] to find out more.