Our Listening Ear service helps carers by giving them someone to talk to. A consultation with carers done by Caring Together showed how isolated family carers feel and carers also told us they would like to receive telephone support from a volunteer.
Pat Strachan is a volunteer who is involved in Listening Ear. She said, "It is a very rewarding role, being a volunteer at Caring Together. I enjoy trying to build trust, and openness with a wide range of people really appeals to me.
"It has brought home to me how important carers are and how the support people receive makes a huge difference but, also how tough and isolating it can be for carers."
Pat continued, "It's so rewarding to talk to people and maybe be a friendly voice that can make a difference to their day, to help them have some time to reflect on their situation, maybe offer some basic information or praise for what they are doing. It's also really nice to find out that so many people really value the chats – it seems such a small thing.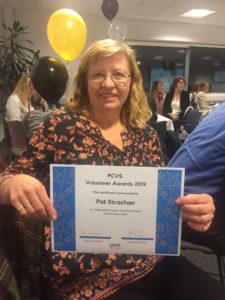 "For some, Listening Ear is a useful way to reflect on time the carer has for themselves and what they would value to improve their own life. This often leads on to getting further information, guidance and services from Caring Together or other organisations."
Pat recently received an award from Peterborough Council for Voluntary Service (PCVS) for volunteering with Caring Together.
If you could spare a couple of hours a week to support this service we would love to hear from you. You will be joining a fantastic team and full training and ongoing support will be provided.
Please telephone us on 01480 499090 or email [email protected] if you would like more information or an informal chat about this volunteering roles.
Help change the lives of family carers in your community – click here to see more volunteering opportunities with Caring Together.