One Place is a community hub which is based in Addenbrooke's Hospital (Cambridge University Hospitals NHS Foundation Trust), outside the main reception.
Appointments can be made with Carers Support Officers, to help identify and provide advice to:
family carers of people who are in hospital or attending as an outpatient,
family carers who are patients of the hospital,
members of staff who are family carers.
Carers Support Officers are able to write a Family Carers' Prescription to enable the carer to have a flexible break, receive support or information, and support with planning for emergencies.
Our discharge and admission avoidance team (DAAT) can provide bridging care to help support your family member home more quickly.
Other voluntary organisations and information are also available at One Place.
Where to find us
When facing the main entrance from the outside, the office can be found to the right hand side.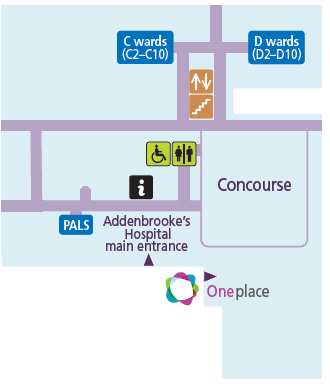 Contact us
To contact the team at One Place, telephone 0345 241 0954/01480 499090 or email [email protected].