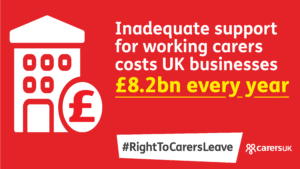 We are supporting a Carer's Leave Bill which would see people balancing caring with paid work have the right to request unpaid carer's leave.
The Bill introduced by Wendy Chamberlain MP, the Liberal Democrat MP for North East Fife  has passed its third reading in the House of Commons and will now move on to the House of Lords.
The Bill will give employees who are unpaid carers the right to one week's unpaid leave for caring purposes and anything connected to their caring role.
Through our carer helpline and hubs, we have heard from carers who have been forced to give up work because they are not supported to remain in their jobs alongside caring for a family member. This has a huge impact on their families, the businesses they worked for and the wider economy.
Now life has got even tougher with the ongoing cost-of-living crisis, that's why it's even more important to support carers in work.
Whilst we believe that carer's leave should be paid, we see the Carer's Leave Bill as a first step to achieving that aim. It would:
Give over two million carers clear rights in the workplace.
Improve awareness of the need to support carers with employers.
Help prevent carers needing to use annual leave because of their caring responsibilities.
Ensure that for parents of disabled children, rights to take planned time off for caring would not stop when their child turns 18.
Carers Speak Out
Click here for our Carers Speak Out page, where you can share your experiences of balancing caring with paid employment.